UV/LED lamps
The UV/LED nail lamp is an essential tool for nail care, especially for gel or semi-permanent gel nail reconstruction. These lamps use LED or UV technology to cure the gel, ensuring a resistant and long-lasting result.
In addition, many gel nail lamps are equipped with a convenient horn that fits perfectly to the shape of the nails, ensuring uniform and precise curing.
The semi-permanent gel nail lamp is able to guarantee a longer duration than traditional nail polish, without getting damaged or chipped for several weeks. Furthermore, thanks to the LED technology, the polymerization of the gel takes place in a short time, allowing a saving of time in the nail reconstruction process.
The semi-permanent gel nail lamp is ideal for natural nails and gel or acrylgel nails. Choosing a quality and reliable nail lamp is essential to ensure the best nail care experience.
Buy a semi-permanent gel nail lamp now and ensure a professional and long-lasting result in nail reconstruction.
UV/LED lamps
There is 1 product.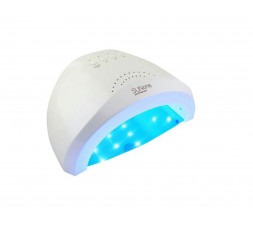 SUN One UV LED 48W innovative lamp cures all UV and LED Gels and all Semi-permanent. The peculiarity of this SunOne LED lamp is precisely the white...